Ryan Murken
Your Prep Sports
IOWA CITY – Every successful team across all sports seems to have that player that goes about their business behind the scenes without accolades or acclaim.
An unsung hero.
A glue guy.
City High has Austin Rindels.
"I don't even more how to put it into words what he's done for us," City High senior shortstop Gable Mitchell said of Rindels. "You couldn't ask anything more from him."
Rindels doesn't have much in the way of offensive statistics but what the junior catcher has done behind the plate this season has been too impressive to ignore.
Class 4A second-ranked City High (32-8) will place for a spot in the state title game on Thursday when it takes on No. 7 West Des Moines Dowling (26-14) in a 4A semifinal at 7:30 p.m. at Duane Banks Field in Iowa City.
The emergence of Rindels is an easily overlooked reason the Little Hawks are a win away from a championship game appearance.
"He's pretty much caught every inning this year," Gable Mitchell said. "We are very grateful that he's done what he has for our team. He's been a big reason we've had the success we've had."
In most of his 11 seasons at City High head coach Brian Mitchell has utilized a two, or even three-person rotation, at catcher.
Entering this summer Mitchell expected to use a similar gameplan behind the plate.
"We've always really tried to get two really solid catchers and if you have a third that's unbelievable," Brian Mitchell said. "Coming into the season we thought we had the deepest and best catching situation we've ever had."
Rindels was always expected to be in the catching rotation for the Little Hawks but after injuries and other lineup changes suddenly the first-year varsity player was handling the catching duties solo.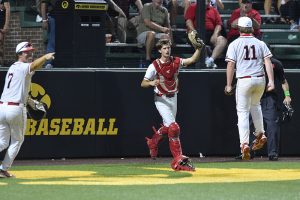 "I knew I was going to catch some and growing up I caught every game, every inning so it has been really fun," Rindels said. "As the season went on I kind of knew I was going to be catching a lot so I just had to mentally prepare myself."
On a talent-rich City High roster filled with all-state selections and college prospects it is easy to gloss over what the ironman effort from Rindels has meant to the success of City High this season.
He has two hits, which ranks 17th on the team, and his hitting .143.
His work behind the plate though has been superb at a position that isn't easy to master.
"Austin has been fantastic," Brian Mitchell said. "I don't even think he believed that this is how it was going to go but we kind of expected a lot behind the scenes before the season. He has been awesome."
A four-sport athlete that also competes in football, basketball and track Rindels made an effort to get to the City High baseball facility during the offseason.
Catching those evening bullpen sessions from the likes of City High ace and Iowa recruit Cade Obermueller led to some late nights for Rindels in the winter and spring but have paid off during the stretch this season.
"I got in whenever I could," Rindels said. "We made time for me to get in and catch bullpens. It was just a lot of times I wouldn't get home until 9 after going to practice and then to the hitting facility.
The offseason work with Obermueller was one of the biggest keys.
The left-handed throwing Obermueller who has been regularly over 90 miles per hour this season and has a wipe out slider isn't the easiest guy for a first-year catcher to handle.
Rindels has made the transition smooth.
You can't have a tougher kid to catch than Cade," Brian Mitchell said. "I think Cade did a fantastic job of getting him involved in bullpens throughout the offseason. I think that was huge and so Austin was in track and other stuff but he found time to do whatever he could to catch bullpens."
As he has been for much of the season Rindels was hit for by a designated hitter in the Class 4A state tournament opener on Tuesday.
Rindels has only 14 at bats to his credit this season.
Not hitting doesn't bother Rindels who uses the time between innings to rest and focus on catching.
But to say he doesn't pay attention to statistics isn't accurate, he definitely cares about one stat for sure – wins.
"That is all that really matters to me is that we win games," Rindels said. "I just want to win games and whatever I can do to help us do that, that's what I'll do."
Did you enjoy this subscription free article? Help keep Your Prep Sports free by donating.